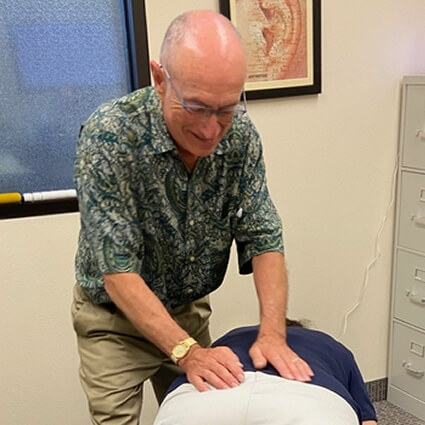 Meet Dr. Daryl D. Wills
My Chiropractic Journey
I grew up on a farm in Gering, NE. I was introduced to conservative health care by my parents after experiencing a back injury on the farm. Once I discovered that I could be helped without the use of drugs or surgery, I decided my life-long dream of being a doctor should follow the course of chiropractic health care.
Chiropractic Education
I attended Northwestern University of Health and Science (NWUHS) in Minneapolis and National University of Health Science (NUHS) in Lombard, Illinois where I graduated cum laude in 1973. A Fellow in the Acupuncture Society of America (FASA), I began practicing in Pine Bluffs, WY. After practicing there for 6 years, I built my clinic and relocated to Gering in 1979. In April 2020, we moved across the river to Scottsbluff.
Chiropractic Philosophy and More
My belief in the value of Chiropractic care is so strong, that not only have I served patients for over 48 years, I have worked diligently to elevate the chiropractic profession and help it gain acceptance in the health care community.
I have served as President of both the Wyoming Chiropractic Association (WCA) and the Nebraska Chiropractic Physicians Association (NCPA) and most recently the American Chiropractic Association (ACA). In addition, I served on the Chiropractic Board of Nebraska for ten years. I served as the chiropractic member on the Board of Health for the State of Nebraska for nearly 10 years.
EXPLORE CHIROPRACTIC
We Are A Chiropractic Family
My family includes my wife, Bobbi, son, David, daughter, Melissa and their combined 7 children and spouses. All of our family members receive regular chiropractic adjustments to keep them healthy and help handle the day-to-day bumps and falls. I also receive regular adjustments as well to maintain my health and vitality. Currently one of my grandchildren is a student at Logan University studying Chiropractic.
Chiropractic is not just a health choice, it's a way of life for millions of patients. I want to share my excitement over helping patients naturally and help them to help others as well. I look forward to meeting you, and hope to gain your confidence to serve as your health coach.
Our staff and I consider it an honor, that of all the health care offices you could choose, you chose Wills Chiropractic Clinic.
Book an Appointment Today
Dr. Wills would love to help you get back to living life to its fullest. Are you ready? Contact us today for your free consultation; we're here for you.
---
Dr. Daryl D. Wills | (308) 436-7176